My brother and his family are staying with us for a while. My little niece and nephew are 3 and 1 1/2ish. Chloe is really, really, loving the chance to be an "older sister". All that pent up mothering instinct is finally able to come to the front. Roscoe is trying really hard not to look like a 90 pound wolf, but I'm afraid that he can be a bit startling to a little bit when they run around the corner and find themselves face to face with his hairy nose. Although, my little nephew had no problems pushing him out of the way, so he could steal a bite of the dog food Roscoe was working on.
Our house is starting to take on that certain patina of a house with toddlers again. The Christmas tree ornaments have all migrated to the top of the tree to avoid little reaching fingers. I am finding plastic french fries in unexpected places. Shoes that fit in the palm of my hand crowd for space by the door, and Dora the Explorer is back to doing her thing in the living room.
The best part though, was scene I found tonight in Chloe's room after saying yes to books in bed until lights out...
Berenstain Bears!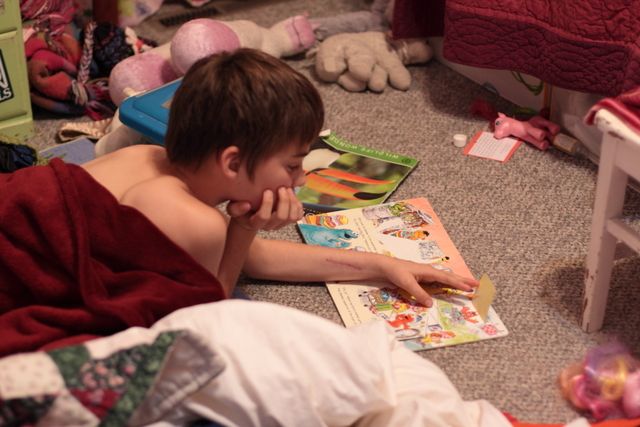 Aidan found the Elmo flip book.
Hope your holidays and filled with laughter and love. And maybe a little chaos from sticky fingers to make it extra special.