After a while, old churches seem to blend together for me. I know there are people who would happily visit churches as much as I visited bakeries, I'm just not one of them. But this church was the first one that we visited in Germany, and it was my favorite. It was not the most ornate-far from it. It was a smallish church with a sweet feel inside. We were not allowed to take pictures inside the sanctuary so i can't show that. There was a square of sand that contained votive candles nestled inside. Aidan and Chloe both dropped some euros in the box to buy a candle to light. Then they solemnly added their lights and prayers. It felt significant somehow.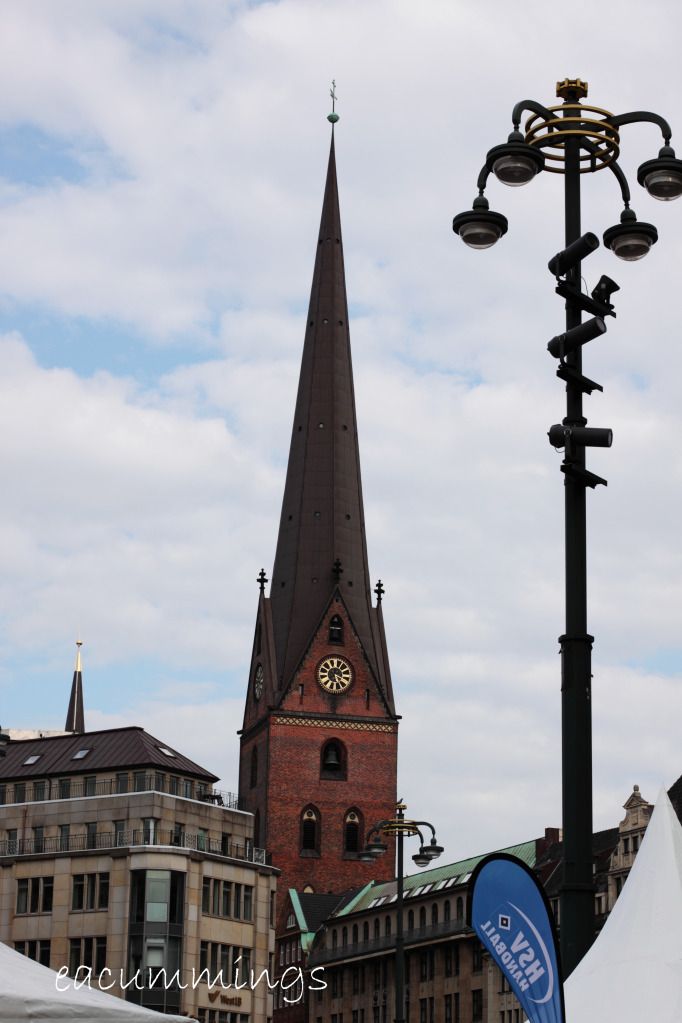 St. Petri's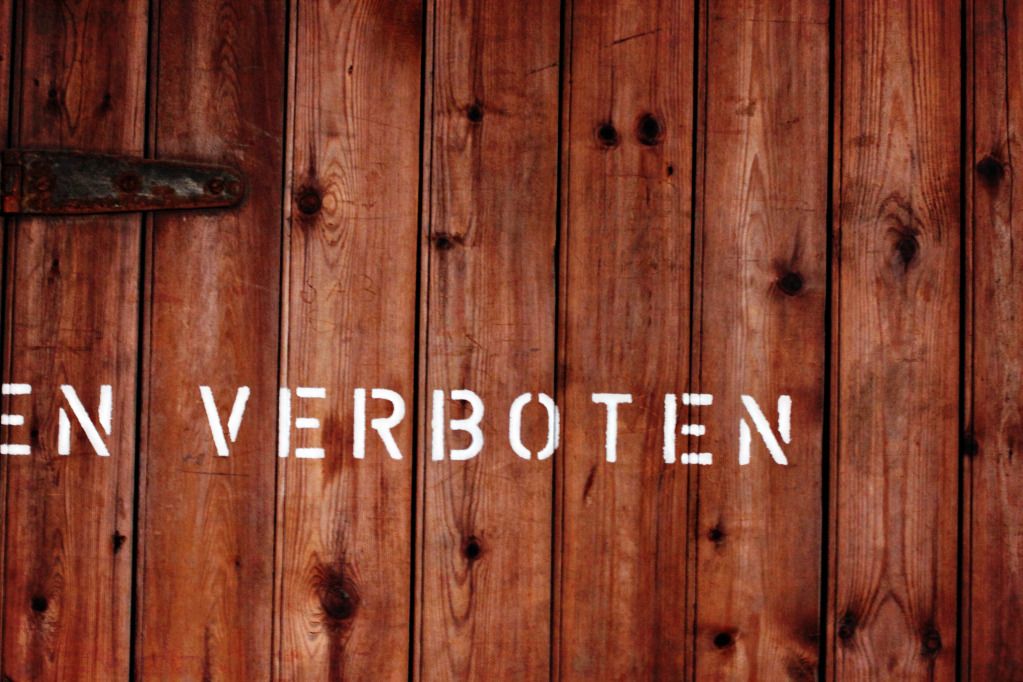 Verboten was one word that I recognized. And there are a lot of things labeled "verboten" in Germany.
Next, we climbed to the top of the tower. I can't remember how many steps there were to the top, but it was a lot. And it got hotter and hotter the higher we climbed, until our faces were damp and our hair was sticking to our foreheads. The twisting stairs got more and more narrow until we were stepping on a tiny plank. We kept passing signs that said "RAUCHEN VERBOTEN". (When we later asked what that meant, our pronunciation was so garbled our friends thought that it was the wording for
sliding is forbidden
. Which made sense to us, because-since we have an Aidan-we could understand a temptation to slide down the twisting railing. Later we found out it actually meant
smoking is forbidden
, which makes more sense for the general public.)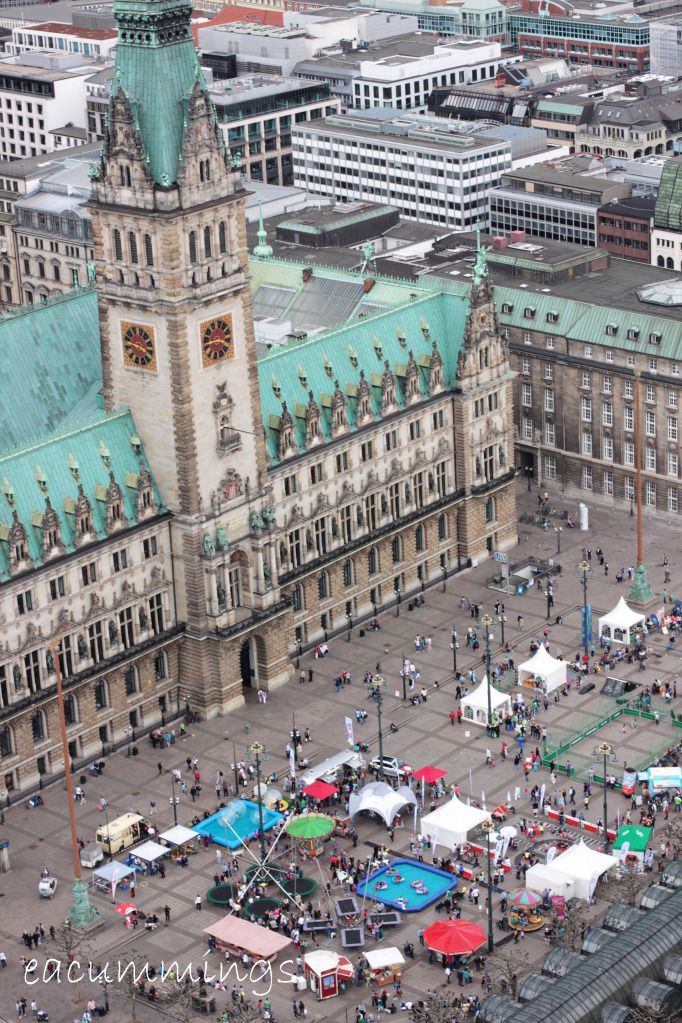 The view from one of the levels.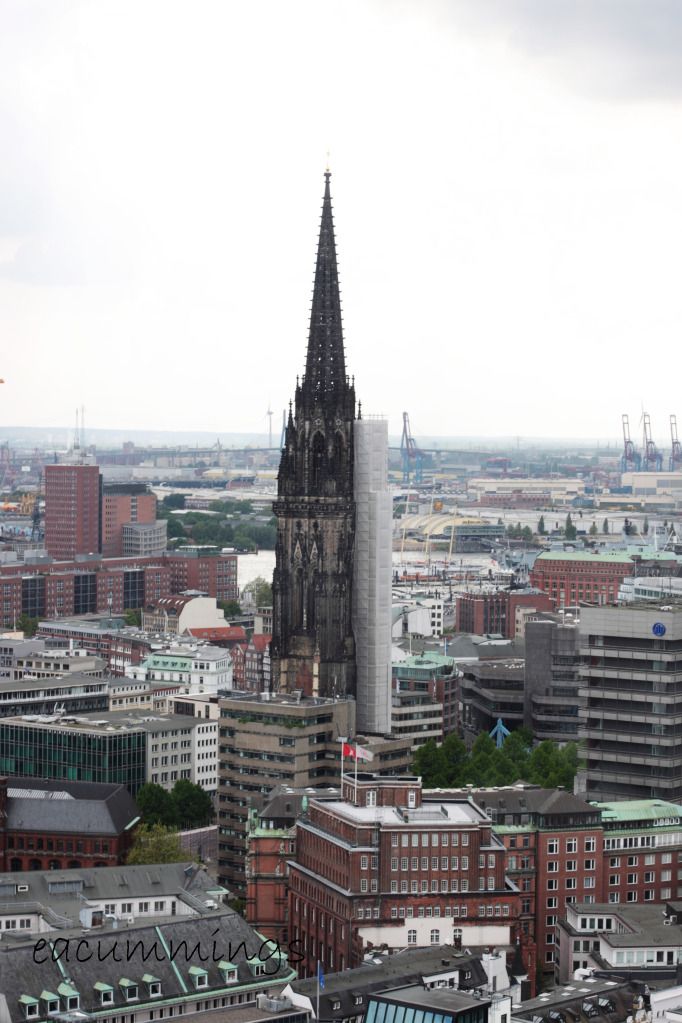 Another view from the windows.
Overlooking a little street cafe.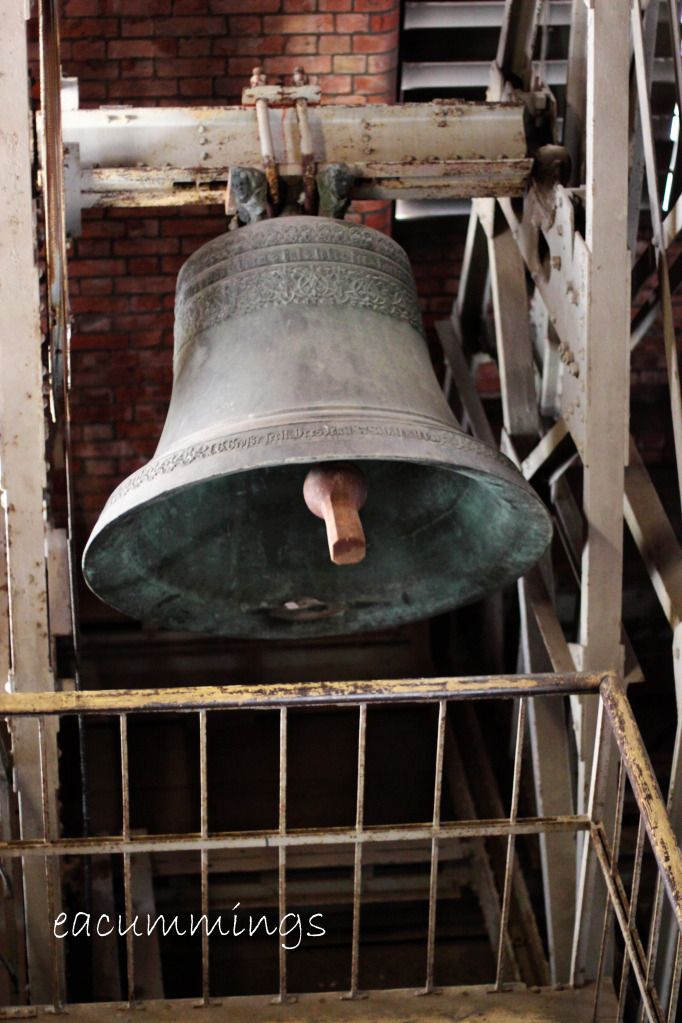 One of the bells.
On our way down, the floors began to tremble with a great rumbling sound. We froze; not sure what was happening. Chloe thought maybe we were being bombed. But then the bells began to ring. We were on the floor above them, and it was so loud that it was shaking the floor. (Down below my mother's first reaction was that Aidan must have done something. She was imagining him swinging from the bell rope.) We had to cover our ears as we continued on down past the huge, lumbering bells with our bodies vibrating from the sound.
My legs were shaking by the time that we got down. But we made it, and a sweet, older lady in the gift shop gave the kids a post card to prove it. Aidan thanked her in German. And so she must have assumed he was our interpreter because she would try to speak to us in halting English and then would turn to Aidan and switch to rapid fire German. He played it off by nodding and answering her with
yes
and
thank you
in German which seemed to satisfy whatever she was asking. And she never knew that those were the only two words that he knew at that point.